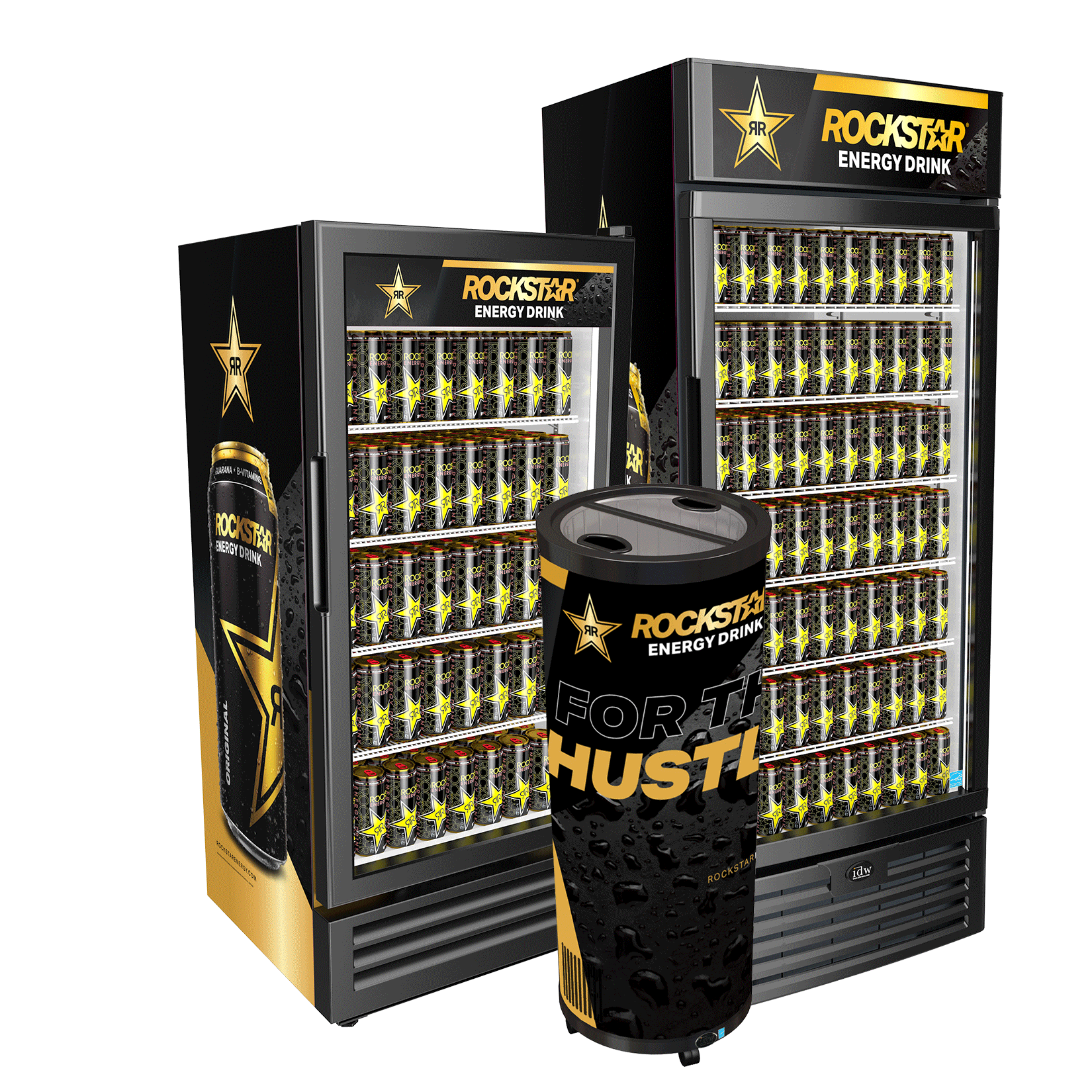 Rockstar Energy Drink is designed for those who lead active lifestyles – from Athletes to Rock Stars.  Available in over 20 amazing flavors at convenience and grocery outlets in over 30 countries, Rockstar supports the Rockstar lifestyle across the globe through Action Sports, Motor Sports, and Live Music. Rockstar energy drink is specially formulated to improve recovery time for those with active lifestyles, including athletes and musicians.
Innovative DisplayWorks has partnered with Rockstar Energy to develop a range of proprietary Rockstar branded in-store marketing equipment solutions for Rockstar Energy, that generate impulse sales and ROI for Rockstar Energy, its retail customers and its bottlers.
Rockstar G-series Coolers
IDW has partnered with Rockstar to develop a range of cooler solutions. Designed to meet the highest performance standards in the Industry and backed by an industry leading warranty, Rockstar G-Series coolers come in a variety of shapes, sizes, and dimensions to drive sales. Each Rockstar Energy Drink cooler is outfitted with high impact LED Glass Door illumination, high impact graphics and branding for targeted point of purchase marketing and sales. LED illumination keeps interior products well lit at all times. The refrigeration system has been specially tuned to efficiently pull the temperature down and maintain ideal serving temperatures for Rockstar's diverse product portfolio. Powder-coated shelves and heavy duty interiors ensure easy maintenance and cleaning while protecting the cooler from dents, scratches, and other damage caused by loading and day-to-day use.
IDW is committed to providing sustainable, environmentally friendly solutions to Rockstar Energy. IDW beverage coolers exceed DOE 2017 standards. All of our Rockstar coolers utilize Natural Refrigerants and high density environmentally friendly Cyclopentane insulation which is CFC and HFC free and has zero ozone depletion potential (ODP) and zero Global Warming Potential. This insulating foam is eco friendly, fully recycleable and helps to save energy by keeping cold air in and keeping warm air out.
This means your Rockstar Cooler will have all the benefits without racking up the electricity usage.