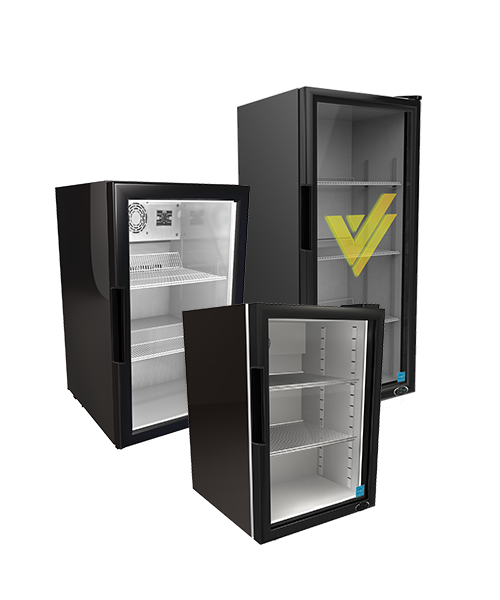 IDW's G-series Countertop refrigerators offer a compact footprint designed to generate point of purchase sales where space is at a premium. Designed to be used on countertops, at check lanes, end caps, or in any high traffic location. G-series coolers come in a variety of shapes and sizes to meet your specific retail application. IDW's G-series countertop refrigerators use innovative refrigeration design to efficiently pull product temperatures down while minimizing the Energy Consumption and Maximizing the Marketing Potential for your Brands. Environmentally friendly components are reliable and help to save energy while improving overall functionality and performance. Backed by an industry leading warranty, IDW's counter top refrigerators are an excellent investment. With high impact graphics and dynamic LED illuminated doors and interiors G-series will help your products stand out amongst the crowd, generate increased sales and a solid Return on Investment.
Drive impulse sales with an IDW Countertop Cooler Refrigeration program
Smaller than other commercial refrigerators, countertop coolers can be placed in tight locations on the counter, driving increased impulse sales. IDW's proprietary G-series coolers come in a wide range of sizes and dimensions to fit specific in-store or retail environments and are designed to meet the most rigorous technical performance standards for performance, reliability and serviceability in the industry. IDW's innovative G-series coolers are energy efficient, and designed to quickly pull down and maintain optimum product temperatures in the harshest retail environments. G-series coolers generate sales, and increase brand presence with high impact graphics and optional proprietary LED Logo technology that grabs the attention of consumers.
IDW G-Series coolers exemplify our commitment to sustainability and eco-friendly practices. IDW is an Energy Star partner. Our entire portfolio utilize natural refrigerants, and exceed DOE 2017 Energy Consumption Requirements. IDW is a leader in the transition from hydro-fluorocarbons (HFC | r-134a) to Natural Refrigerants known as Hydrocarbons (R-290 | R600a) which are natural, energy efficient, and non-toxic. These alternative refrigerants have no impact on the ozone and low Global Warming Potential. IDW is actively engaged with our supplier partners to explore and implement the use of clean technologies such as Energy Efficient motors and high efficient LED lighting to maximize performance, while greatly reducing the energy consumption and life-costs of operation.
Please contact IDW today to learn more about how our G-series Commercial Coolers can help you grow your business!