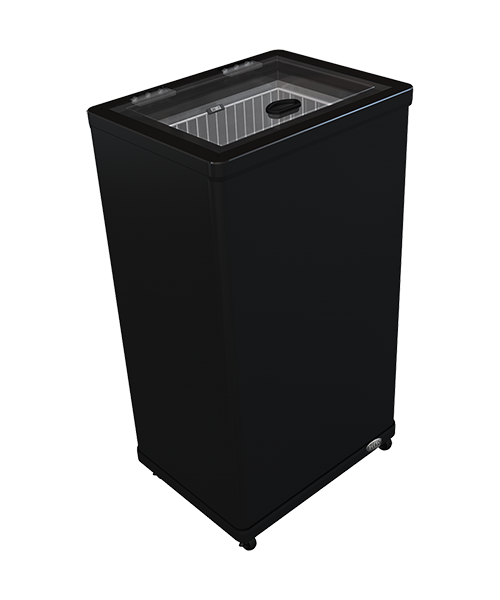 TEQ2 Impulse Cooler
The TEQ2 Impuse Cooler allows you to expand your cold drink availability with a mobile solution for storing and displaying your products. The main component of the TEQ-2 Impulse Cooler is a unique refrigeration system designed to keep your drinks cold for up to 7 hours without needing to plug into an electrical source. Eco-friendly design and an Energy Star certification ensure that your TEQ2 will save energy without compromising performance or functionality. You can also improve your marketing with quick-change, two-sided graphic panels, which can combine with the cooler's mobility to generate impulse sales in high traffic environments.
Versatile and highly effective, the TEQ2 is ideal for placement at the cash register of convenience retail outlets such as gas, liquor, mom & pops, and national chains. The TEQ2 comes standard with heavy duty casters,  making it portable and perfect to position in high traffic locations during different day parts:
06:00-11:30 the coffee bar during morning hours…
11:30-15:00 the deli-counter during the lunch rush…
15:30-17:00 Cash Register for commuters…
17:00-19:00 near the hot prepared food section during the evening/dinner hours…
The TEQ2's High impact, 2-sided graphics can be pre-printed for easy change out during campaign seasons. Please contact us to learn more about how the TEQ2 Impulse cooler can generate incremental sales and generate positive ROI for your Brand today!
Order Inquiry
Tech Specs & Support
Specifications
Exterior Dimensions: 22"W x 17.6"D x 40.75"H
Expand Your Cold Drink Availability, No Longer Are You Restricted by the Availability of Electric Power
Unique Refrigeration System Designed for Use in Multiple Operating Environments Where Electricity is Not Available
Designed to Maintain Cold Beverage Temperatures for up to 7 Hours Unplugged
Tested to Meet In Market Enviornment Performance Guidelines *
Stimulate Impulse Sales in Any High Traffic Location:

Convenience Retail
Petroleum
Concessions/Stadium
Cafeteria
Special Events
Kiosks

Heavy Duty Casters for Mobility and Flexibility of Placement at Retail
Quick-Change Two Sided Graphic Panels
9' Cord with Cord Management System
CFC-Free Insulation
UL Listed
Conforms to NSF-7
ENERGY STAR® 3.0 Qualified
* TEQ2 will maintain average 35-45° drink temperature in a 70 degree environment for up to 7 hours without power. Actual performance may vary depending on operating environment.