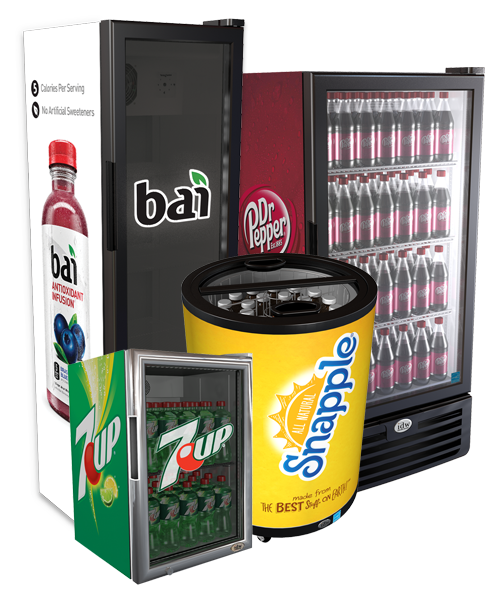 Keurig Dr Pepper, (KDP) is a popular soft drink and beverage company that is based in Plano, Texas. Keurig Dr Pepper was originally founded as Cadbury Schweppes Americas Beverages, a spin off of Cadbury Schweppes in Britain. The company was officially founded as KDP in 2008 and has evolved to encompass a variety of popular drinks. Some of its most popular beverage brands include Snapple, 7 Up, Dr. Pepper, Hawaiian Punch, and A&W Root Beer.
KDP:

29.5 +0.3 (1.03%)
KDP G-Series Coolers
Innovative DisplayWorks offers a variety of in-store marketing solutions for KDP's branded product portfolio. Our G-Series coolers are available to KDP bottlers and distributors in various shapes, sizes, and dimensions, enabling greater flexibility for placement in a wide variety of trade channel locations. IDW's KDP coolers are specifically designed to meet the highest performance and energy efficiency standards in the industry. The G-series heat exchange systems are designed to quickly pull the product temperature down, and maintain ideal serving temperatures for immediate consumption. IDW coolers are designed to cost effectively generate ROI through performance, reliability, and energy efficiency. Our proprietary LED logo illumination and High impact graphics ensure effective branding and marketing that drive point of purchase sales and visibility for KDP brands. Some of our most popular KDP products include the following:
• Dr. Pepper GCG-26
• Snapple GCG-9 Refrigerator
• 7up G12F Cooler
In our commitment to eco-friendly practices. Our G-Series coolers utilize green materials and components. Each cooler utilizes HFC-Free refrigerants, and exceeds DOE 2017 energy consumption requirements. IDW is an Energy Star partner, and most of our models also meet the latest Energy Star Standards (Insert link in Energy Star) and are certified NSF Level 2. LED lights provide effective illumination and use a fraction of the energy of fluorescent bulbs. High density environmentally friendly cyclopentane insulation is CFC and HFC free and and has zero ozone depletion potential (ODP) and zero Global Warming Potential. This insulating foam is eco friendly, fully recycleable and helps to save energy by keeping cold air in and keeping warm air out.